GreenFleet70
Welcome to Nordania's tailor-made company car solution consisting of electric cars and plug-in hybrids, which allows for lower CO2 driving emissions than conventional car models. We can help you put together the right fleet that matches the company's needs and ambitions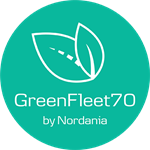 Climate change is one of the biggest challenges we face. The need for transport of both goods and people is crucial for a well-functioning society, but exactly because the transport sector plays such a major role, it also leaves a significant footprint.

As Denmark's largest leasing company, we are taking part in transforming the Danish car fleet, and we support the ambitious climate law in Denmark, which aims to reduce CO2 by 70% in 2030 compared to 1990.

We have therefore launched GreenFleet70 – a fleet concept with a variety of solutions and products. With GreenFleet70, companies and their employees can choose a company car solution with a focus on reducing CO2 emissions while driving and thus contribute to a reduced climate footprint. Here, ambitious goals merge with practical solutions that make it both easy and tangible to transform the company's fleet.

Nordania has a collaboration with one of the country's strongest charging operators, Clever. We can help you to have charging points installed – either at your company address or at the house of the car user. In that way, charging for the green fleet is uncomplicated from the first kilometre.

Are you responsible for the fleet of cars in your company? Would you like assistance in transforming your fleet effectively? Click here and learn more about how our advisors can help you.
Explore all our electrified cars in our online showroom.
What is GreenFleet70?
Our concept covers:
Electric cars and plug-in hybrids (see the selection here)
Possibility to choose a private charging box
Constructive reporting with GreenFleet score
Individual counselling with a focus on solutions with the possibility of low CO2 emissions while driving
We base our counselling on our extensive data and specialist knowledge in the field. We continuously educate our advisers, so they have in-depth knowledge of the new models, technologies and types of drivelines.
Do you require any assistance?
Get in contact with one of our advisors by filling out this contact form (Danish only).